What Is UI & UX Designing? Career, Jobs & Salary In India
UI and UX Designing are the most often confused and conflated terms in web and app design. It is basically a course to learn to design Websites, Web Applications, and Mobile Apps.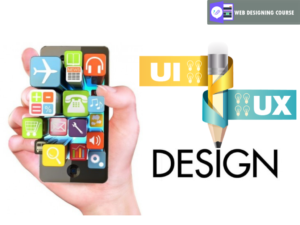 What is UI Designing?
UI design stands for "User Interface". The user interface is the graphical layout of an application. It deals with the buttons users click on, the text they read, the images, sliders, text entry fields, and all the rest of the items the user interacts with. This includes screen layout, transitions, interface animations, and every single micro-interaction. Any sort of visual element, interaction, or animation must all be designed. Basically, UI designers create the look and feel of an application. They decide the color schemes and button shapes- line width, which fonts used in text etc. they make sure that the application's interface is must be attractive, visually exhilarating, select the appropriate to match the purpose and personality of the app. The UI designer needs to make sure that every single element feels united, both appropriately, and on purpose.
What Is UX Designing?
UX design stands for "User Experience". It is a user's experience of the app that is determined by how they interact with it. Is the experience is smooth or inherent and confusing? Does interacting with the app give a logical sense or does it feel like a struggle? User Experience is determined by how easy or difficult it is to interact with the user interface element created by UI designers. UX designers are also concerned about an application's user interface; this may lead people to confuse about the difference between the two. But whereas UI designers are to deciding how the user interface will look, UX designers are tasked with how the user interface will operate. 
They decide how the interface works; they determine the structure of the interface and the functionality.
UI & UX Designing Career | Jobs | Salary in India.
A career in UI and UX designing can be a radical one. Brands are started to giving serious thought to the experience. As you explore different industries throughout your career, you may come to specialize in the application of UX to a specific technology or interface, such as:
Voice UI

Chat UI

Artificial Intelligence Personalities

Information Visualization

Virtual Reality

Augmented Reality

Automotive UX

Internet of Things

Haptic UI
Technology is exploding in these areas, and it's difficult to find designers with the appropriate background to tackle these challenging human-computer interactions. The new user experiences will require an increased capacity to handle more complications.
UI / UX Designing will cover all aspects of web designing. It is worth learning Web development because the world is more digitized hence web developer demand is increasing. Front-end web developer is responsible for web sites layout and Integration of application other tools and Graphics. Web developers need a complete understanding of HTML Programming, CSS, and JavaScript. If someone makes an excellent carrier in Web development then he/she should update on new tools and advancements of technology. Company recruiter wants web developer with degree and training in graphic design.
Graphic Design is the process of planning and attractively projecting ideas with visual and textual content. The method of communication can be physical or digital and may include images, words, or graphic content.
UI UX Designer Salary In India
The job profiles of UI UX designers:
UI Designer

UI Designer/Developer 

User Experience 
An entry-level User Interface Designer with less than 1-year experience can expect to earn an average total compensation of ₹ 3-4 Lacs. An early career User Interface Designer with 1-4 years of experience earns an average total compensation of ₹ 5-7 Lacs. A mid-career User Interface Designer with 5-9 years of experience earns an average total compensation of ₹7-8 Lac. An experienced User Interface Designer with 10-19 years of experience earns an average total compensation of ₹ 9-11 Lacs.
The Levels and salary per annum for UX designers:
Junior candidates (< 3 years) make between 4–14 lakhs per annum.
Mid-level candidates (4–6 years) make between 8–20 lakhs per annum.
Senior candidates (7+ years) make between 12–30 lakhs per annum.
Conclusion 
It purely depends on your skills, experience, and most importantly your knowledge. The factors mentioned all play a vital part when it comes to earning. It's all about how passionate are you & what value you can bring to the company & money will automatically follow.