TikTok Case Study – Digital Marketing Strategy, Growth & Revenue!
The trends on social media are moving too fast to keep track of everything that has been going around. These trends of social media boosted in the year 2008 when Facebook had grabbed a large market size. This was an opportunity for people to showcase their talents and advertise their brands. Ever since then social media has evolved much more than just being a part of people's recreational activity and a source of entertainment. Here in the case study, of TikTok, you will learn more about its growth and revenue strategies.
When it comes to creating entertaining videos in today's scenario there is only one app that people are talking about: TikTok. It is a mobile application that lets its users create short videos with lip-syncing and with various features.  TikTok was developed and launched in the year 2016 by ByteDance it is a Chinese app developer company. Before launching TikTok to the world this company created a similar application named Douyin in the Chinese market.  The app is available on iOS as well as on  Android phones.
Statistics show that TikTok is the most downloaded app with active users in the year 2018. TikTok is available in 150 countries and more than 75 languages. It was recorded that there were more than 140 million downloads only on iOS devices and more than 650 million downloads on Android devices.  Also, it has been downloaded 800 million times globally. TikTok has several users than Facebook, YouTube, Instagram, PUBG, and WhatsApp within one year.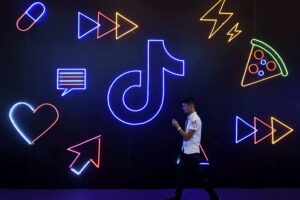 Also Checkout: 21 Top SEO Interview Questions & Answers You Should Know !!!
Features of TikTok:
There are various features that TikTok provides to its users.
It lets the users create short videos of the duration of 3 seconds, 15 seconds, and 60 seconds.
Videos can be created with background music and Lip-sync.
Viewers can "react" to the video with a counter video or with a "duet" on the same video.
Videos can be created with several filters, Hashtags, in fast and in slow motion.
The video can be shared on the user's Tik-Tok account as well as on the user's other social media accounts.
Security:

Tik-Tok takes the security of the users with full concern. It gives the option to the users to keep their accounts "Public", "Only Friends" and " Private".
It also provides a feature of "For You" where the users 16 and above get recommended video as their interest
Barriers to TikTok's Growth:
Tik Tok has faced a lot of issues in its Domestic as well as in foreign markets.
On 3rd July 2018, Indonesia banned TikTok from uploading pornographic videos. As a result, TikTok had to appoint 20 employees to review the videos clipped by the users and then upload them. Later on 11th July 2018, TikTok was unbanned.
In the same year 2018, Douyin the Chinese variant of this app was objected to by the Chinese Govt. for uploading unacceptable content like depicting adolescent pregnancy videos. And banned videos related to human rights and also issued a list of a total of 100 types of videos that would be objectionable.
Content related to foreign leaders like Vladimir Putin, Donald Trump, Barack Obama, and Mahatma Gandhi were also banned.
TikTok was also banned in India in the early phase of the year 2019 India for sexually explicit content, cyberbullying, and deep fake.
TikTok had to banned content related to homosexuality even in those countries where it is legal due to some similar circumstances.
Learn more about the Best Digital Marketing Course in Pune.
Growth and Expansion of TikTok
TikTok has proven to be one of the most popular apps in its segment. As mentioned above it had a larger number of active users in the time frame of one year within its launch. As TikTok developed this popularity even celebrities like Ariana Grande Britney Spears, Disha Patani, Jacqueline Fernandez, and Shahid Kapoor started using it. And sooner this popularity gave growth start to TikTok with a great and success. Within a year that is on 9th November 2017, TikTok took over a Chinese company headquartered in Shanghai named musical.ly that operated outside China. Musical.ly is an app that has similar features as TikTok. Later TikTok redirected the musical.ly page to its updated version of TikTok.  Similarly, Tik-Tok has taken over companies with similar products to abolish market competition.
Revenue of Tik-Tok
Tik-Tok does not have any form of paid Ads but it has in-app purchases of emojis and digital gifts. Though this does not sound like a proper income generation method Tik-Tok earned up to $3.5 million every month in the year 2018. This was an increase of 275% as compared to the year 2017. Out of this only, 42% of the revenue was been generated by the U.S and the rest was been generated by China.
This means the Chinese audience spent over $ 50 million on Douyin within a year. But the answer to the question of how does Tik-Tok plans to generate its further income stays unanswered. ByteDance says it has generated $2.5 billion in the year 2017 and $7.5 billion in 2018 it aims to generate 521% growth in revenue by 2019-2020. Tik-Tok was valued at $75 million and said to be the most valuable privately held start-up in the year 2018 which lead to Softbank investing $3 billion.
Know more about the updated Digital Marketing trends and be a Social Media Expert. Join PIIDM the Best Digital Marketing Course in Pimpri Chinchwad.