Top 10 Best UI UX Courses in Pune with Placement 2023
Firstly, UI is known as User Interface while UX is User Experience. This course is about providing the best interface and experience to the user on a web page. These UI UX Courses in Pune are in high demand in tech and design companies. You can get your UI UX training in Pune from various available institutes but we will provide you the Top 10 Best UI UX Courses. As per data, UI UX courses are in high demand, due to the overall change in this digital world. Enrolling in any UI UX Designing Courses in Pune could be an excellent way to get started in the field. With good industry exposure and an intensive curriculum, the given institutes can help you in assisting and building a diverse portfolio.
Before we proceed, we are sharing with you the courses and institutes with special attention to duration, growth opportunity, curriculum quality, and price. Considering these following factors, we are sharing with you a list of the Top 10 Best UI UX Courses in Pune with Placement 2023. 
Content:
-MIT Institute of Design
-UX UI Training Lab
-Freelancers Academy
-AND Academy
-EDIT
-Henry Harvin
-Designboat UI/UX School
-Designers Academy
-ImaginXP
-Studio Incubator 
Top 10 Best UI UX Courses in Pune with Placement 2023. 
Let's move right in!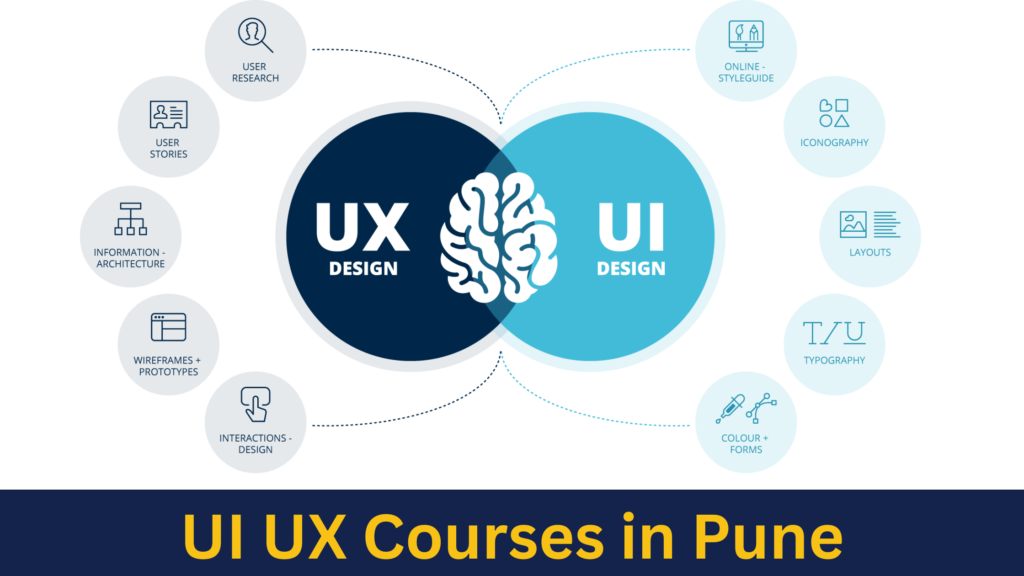 MIT Institute Of Design
Well, you must be well introduced to this institute already. MIT is listed as one of the best UI/UX design institutes in Pune. You will find the course is divided into 2 types, the first one is a 4 years Bachelor course while the second one is a Master course of 2 years. They have the best hiring partners like Google, Flyfin, Microsft, Upstox, Deloitte, Delhivery, Moonraft, and Toddle. 
You need to complete your 10+2 education to be eligible for this course. Well, this course is a complete combination of philosophies of design, technology, and human factors. The students are trained to know end-users through contextual study to give the best user experience. This indirectly helps in building and developing creative digital design interventions. 
Contact Details
Phone number: +91-9209 800 600
Address: MIT, Loni- kalbhor, Next to Hadapsar, Pune Solapur Highway, Pune.
UX UI Training Lab
Tushar Deshmukh is the one who has launched this online platform UX UI Traning Lab. Introducing students to the core of user experience, he is an expert with an overall experience of 20 years. 
Well, his curriculum is divided into 3 sections which are UX UI fundamentals, use-centred design, human-computer interaction, and training in human factor engineering. He offers two project assignments, detailed theoretical knowledge, and one-on-one mentoring sessions. In addition, they also provide practical training in Figma. Here, the special focus in Figma is on interaction, user navigation, and usability. With this, there are many other things included in the curriculum which are typography, layout, color theory, and gestalt psychology. The curriculum also includes HCI and UCD modules facilitating appropriate upskilling. The students after surpassing the course, will be provided with the Certification of UX UI Course. Also, a separate UX and UI Project/Portfolio certificate.
Contact Details
Address: Lane – 2 Row house no 3 – Rainbow, Near Rainbow Apartments, Veerbhadra Nagar, Baner, Pune
Phone number: +91 7499630941
Freelancers Academy
Being a design agency, Freelancers Academy offers training in UX UI design. This institute blends real-world applications and critical theory. They have also been awarded with Best Training Institute in Mumbai City Icon Awards (2019) from Radio City 91.1 FM. user Well, if you plan to learn from Freelancers Academy, you will get to learn wireframes, research, scope, developing sitemaps, and project strategy. They will also provide you with knowledge of tools like Sketch, Photoshop, and Illustrator. With front-end markup languages such as CSS, HTML, Git, and many others you can build an elegant user interface. 
They also provide placement assistance for students. We would like to end up with 3 main reasons you can go for this academy you will get certificates that are industry-recognized, an Internship program, and an affordable fee structure. 
Contact Details
Phone numbers: +919930898222
Location Address: Office no-3 1229 B Rachna house, Fergusson College Rd, Shivajinagar, Pune
AND Academy
AND Academy provides you with a certification course, a diploma, and a PG Diploma. Their courses are backed by a comprehensive curriculum and an esteemed faculty. The duration of their courses ranges from 16 weeks to 1 year. That is an 18-week certification course, a 34-week diploma course, and 1 1-year PG Diploma in UX UI Design. If you are looking for a Diploma or PG Diploma, the team promises a Job Guarantee. 
Having a robust curriculum and contributing to a diverse portfolio, the students are required and offered projects at every design stage. They even promise to give a full fee refund if the students are not placed in a relevant UI UX role within 6 months of completing courses in Diploma and PG Diploma courses. Some of the drawbacks are live sessions are conducted at a fixed time, the job guarantee is only for the PG Diploma and Diploma course and the last practical and fast-track courses require students to give a dedicated amount of time.
Contact number
Phone number: +91 9289 281414
EDIT
EDIT provides a course with an approximate fee charge of 48,000. The course duration is 14 weeks. EDIT promises professional development training with 100% job placement support. They cover the whole landscape of UI UX design. The first two modules focus on hands-on tool and software training. The next two modules are fully dedicated to UI design. They also cover the core concepts which are user research, mapping, information architecture, Figma, and wireframing. The last two modules involve entrepreneurship skills. new design tools, and portfolio-building training. The cons here is the UX UI course duration provided by EDIT may not be sufficient to master the key skills.
EDIT claims to have their student a monthly salary of Rs.10K – Rs.65K after completion of their UX UI course. Also, the experienced ones are seen with a growth of 30% which is 150% in salary. Some of their hiring partners are Wipro, Civica, Idealake, Oziva, Jio, Tata Consultancy Service and many more. 
They have four admission centers in Pune, they are Pimpri Chinchwad, Law College Road, Baner, and M.G Road (Camp). 
Contact Details
Phone number: 8433935124
Website: https://edit.co.in/
You can visit the site for all the Pune's four location addresses.
Henry Harvin
Henry Harvin has always been on the top when it comes to education. They provide you with Advanced Certification in UI/UX Design Strategy. Being a global education technology company, they have this specialized program with more than 144 hours. Adding more to their curriculum, the students will get mentorships from mentors who have more than 18 years of experience, 5 capstone projects, and training in 10 advanced UI UX tools. They promise access to 52 masterclass sessions, professional training to equip learners, a comprehensive and integrated curriculum, diverse range of projects building relevant industry knowledge. They provide this online course with masterclass sessions and exposure to hackathons. 
The cons of their course in Hnery Harvin are there is no job guarantee, not exclusively focused on UI UX design, and insufficient 6 months for training in 10 tools and a total of 5 capstone projects. Well, they provide a 6-month course with an approximate fee of 69,000. 
Contact Details
Phone number: 9891953953
Location Address: 32 INSIGNIA, Pan Card Club Road, Near Westport Building, Baner, Pune.
Designboat UI/UX School
They provide UI/UX courses at par with international standards. They have a one-on-one membership with a duration of a 17-week crash course. They have classes both on weekends and weekdays with online and offline formats. Focusing on weekly models, they start with the practical application of tools and software, then fundamental principles. Secondly, in addition to software training, they are also introduced to user research methodologies. Their last module includes a freelance project with formal placement training.
Well, their practical course trains you for your future jobs and has a very strong emphasis on freelance sessions, mock projects, and dedicated assignments. Their fee structure is claimed to be around Rs. 74,700 and Rs. 86,500 for online classes. The drawbacks are there is no information about the faculty, the duration of the course is short, and no idea about placement. 
Contact Details
Phone number: +91 – 63614 00157
Email Address: buzz@designboat.in
Website: www.designboatschool.in/
Designers Academy
The students are specially trained from scratch in their UX UI Design course to upgrade their skills. They focus strongly on clearing the basics first and then working on software tools and other activities. The basic starts with user research and design thinking. Their curriculum focuses on complex concepts which helps them to have a clear and strong idea about what they are building. Analysis, navigation, user flow, and wireframing are some of the concepts they work on. They have both formats that is, online and offline. They add significant value to their student's portfolios as their projects are examined by experienced faculties. Their batch only has a seat limitation of 7 to 10 students. 
The duration of their course is 105 days with a fee of 70,000. Their Academy space is breezy and dynamic which helps bring more creativity to students. 
Contact Details
Phone number: +91 7090072200
Email Address: sandheep.n@designerrs.com
 Also Check Out : Digital Marketing Course In Pune
ImaginXP
A leading higher Edtech organization, ImaginXP offers a UX Jumpstarter Certificate Course. They have tie-ups with more than 30 universities providing both online and offline modes of learning. Their positives are they offer complete placement assistance after completion and are taught by industry experts. This is a foundational online course ideal for beginners. Their program includes training in Figma & AdobeXD, design fundamentals, User engagement, and the 6D design process. The drawback here is extensive modules on UI design are not part of their curriculum as the course is short. You can cover your basics here but not suitable to get in-depth training. They charge a 70,000 fee for this 3 months course. 
USP of their course are:
A Placement Assistance with 100% assurance   

Master your skills in Figma & AdobeXD

You can develop a strong Stirring Outline

You will get to train yourself with the best and most experienced Industry Experts 

In addition, an exclusively Interactive Class Studios
Contact Details
Phone number: +91-870 067 5382
Address: Office No. 401, 4th floor, Giggle Galaxy Pvt. Ltd (ImaginXP), Golden Empire, Opposite Syngenta Baner, Pune
Studio Incubator
Providing offline training, Studio Incubator has a comprehensive course curriculum. Their syllabus incorporates all essential aspects of UI UX design. In the initial two weeks, their course covers up topics like skeuomorphism, heuristic evaluation, cognitive bias, customer experience, decision-making, lean UX, and usability. Their next months cover practicals and theories on product strategy, UI design, etc. They also make you learn tools like user flow, journey, and empathy maps. The last month has Professional development training and project work.
With a course priced at 68,000, you will get to learn for the next 3 months. Well, you need to priorly decide as this is a full-time course. Each day you will need to give your 9 hours for this course. Their course includes a total of 12 modules with dedicated training of 30 hours in Figma, Photoshop, and Illustrator software. 
Contact Details
Address: 101, Anushree Apt, Ghole Road, Shivajinagar, Above Namaskar Hotel and opposite MJM Hospital, Pune
Phone number: 7030508811
Now, let's dive into some of the frequently asked questions and answers
What is UX and UI Design?
A: UX stands for User Experience UX which focuses on enhancing the overall user satisfaction while UI stands for User Interface which focuses on the visual and interactive elements of a product, making the web page user-friendly and visually appealing. 
What are the prerequisites for a UX/UI design course?
A: You don't need any prerequisites but a passion for solving the problems of users and a creative mind. Not necessarily but it's good if you have a basic understanding of technology and design principles.
Are there job placement services or assistance after UX/UI design course completion?
A: Well, it depends on institutions, but yes some classes offer job placement assistance while some even guarantee 100% placement.
What are the career prospects for UX/UI designers?
A: Currently, the jobs for UX/UI designers have a high demand across many companies. Also, due to the changing world focusing on digitalization, this field offers competitive salaries and excellent career growth.
How much does a UX/UI design course cost?
A: It depends completely on factors like the location, curriculum, duration, and course provider. But it ranges between 50,000 to 1,00,000. You can even go for online courses that are more affordable.
 Also Check Out : Fashion Designing Courses in Pune